Travelling to the Southeast Lowveld of Zimbabwe is never something to regret. The region is home to a number of wildlife species including hippos at the haven along the Turgwe, the silhouetted baobabs, granitic domes and majestic cliffs such as those at Chilojo. The extensive Mopane forests and spread-eagled Musasa, Marula trees (Scelerocarya birrea) and the thickets with Mubvumira trees on rocky plains provide a stable habitat for indigenous wildlife.
The main administrative centre close to major tourist centres is Chiredzi town which is located near the Runde river. The town also known as Tshovani, is home to the Shangaan people whose cultural practices – rituals and rites of passage – are fascinating. The town is served by the Buffalo Range airport and an aerodrome close by. The largest sugarcane plantation in Zimbabwe is also found in Chiredzi.
Gonarezhou National Park, "A place of the Elephants"
Gonarezhou National Park covers more than 5 000 km² bordering north of South Africa's Kruger National Park and Mozambique's Limpopo National Park. The three make up what is called the Great Limpopo Transfrontier Park, a peace park where animals can roam freely amongst the three. Gonarezhou is the second largest national park in Zimbabwe. It is in the Gonarezhou where we find the iconic Chilojo cliffs and winding river gorges.
Gonarezhou gives spectacular experiences with wildlife, particularly elephants and sensational escapades with tour guides and a good time in the well fashioned lodges in harmony with nature. Major activities in the Gonarezhou National Park include game viewing especially from vehicles, through the Chilojo cliffs and Mabalauta. Fishing experiences are also available along the Runde and Mwenezi rivers. Masasanya dam along Runde river is a major drinking point for animals and birds in the dry season which gives one a chance to have a view of animals in their large numbers.
Malilangwe, "Call of the Leopard"
Bordering Gonarezhou is Malilangwe Wildlife Reserve, home to the endangered black and white rhino. The reserve has a high species biodiversity including carnivorous predators and herbivores. A number of aquatic animals are also found in Malilangwe dam. Malilangwe is a non-profit wildlife trust which includes local people in its running and is home to Singita Pamushana safari lodge which was named in honour of the local people, the Shangani. Singita is undoubtedly one of the best lodges in Zimbabwe with exquisite and classy accommodation and catering services. The name Singita is a Shangaan word meaning "a place of miracles".
Save Valley Conservancy
Save Valley Conservancy is described as one of the largest private game reserves in Southern Africa. It is a habitat for almost all Southern African Wildlife species and is home to the black and white rhino. Its main focus is to preserve species which are in danger of extinction. Main activities in the Save Valley Conservancy include wildlife views, horseback riding, canoeing safaris and mountain biking. There is also a hippo haven along Turgwe river under Turgwe Hippo Trust.
Makore
Makore is located on the banks of the Turgwe River at the heart of the conservancy with exquisite accommodation, self-catering and fully inclusive bookings. It is a place to relax and enjoy nature. Zimbabwe's largest baobab is found in Makore, and Makore river has the highest known breeding density for the Crowned Eagle in the World. Makore fun activities involve bush walks, sight seeing of Baobab trees, hippos and crocodiles at Majehwe weir and having a braai in the bush.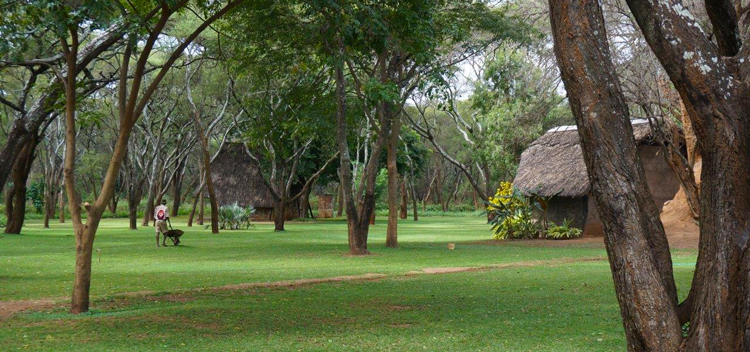 Humani
Humani is also located at the junction of Turgwe and Save rivers and is habitat to a range of wildlife species. Humani is said to be the epicentre of the Save Valley Conservancy, which lies above the Turgwe river and has immaculate accommodation for visitors.
Sango
Sango provides a number of activities including abseiling, safaris, canoeing, walks and rhino tracking. Sango lodge has exquisite accommodation with WI-FI internet access. Other camps include Hammond Ranch, Chishakwe, Matendere and Gunundwe ranges. Hunting enthusiasts can also visit Nyangambe Wildlife Conservation Trust, a buffer zone for Save Valley Conservancy.
Malipati
Located 250km from Chiredzi town is  Malipati. This is where the Manjinji Birds Sanctuary is located, which has for the record drawn thousands of travel enthusiasts who are interested in bird viewing. – Justin Salani